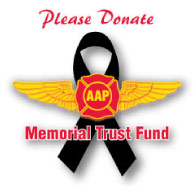 You can make a huge difference in American communities that are subject to wildfire disasters by making a generous donation to the AAF Memorial Trust Fund. These funds are used to provide immediate financial assistance to the bereaved widows and families of aerial firefighters, whether pilot or aircrew, killed in the line of duty. Your contribution generates valuable emotional as well as financial aid when it's needed most.
The Federal government refuses to make aerial firefighters eligible for PSOB benefits. Due to the high-risk nature of this career field, pilots are not often able to obtain private life insurance. The AAF MTF was established to assist bereaved family members in coping with the initial post-accident period.
The AAF MTF is a 501(c)3 non-profit charity, ensuring that your donation is also tax deductible, and you will receive a record of your donation for your files.
Donations can be provided immediately via credit card by using our secure automated system. Alternatively, a donation can be made with a check or cash by printing out and mailing the donation form to the trust fund address below.
I would like to donate via PayPal.
I would like to donate via Check or Cash:
Email: gabby@airtanker.org
Phone: 707-894-3366
Mail: AAF MTF
P.O. Box 336
Cloverdale, CA 95425-0336
The Associated Aerial Firefighters thank you for your generous donation.