INTERVIEW WITH JAMIE SARGENT FIRE BOSS VICE-PRESIDENT OF SALES – BY TONY MORRIS, WILDFIRE RESEARCH NETWORK, DIRECTOR OF COMMUNICATIONS
TM: When was the FIRE BOSS design first developed?
JS: The Fire Boss design was developed in 2000. The prototype Fire Boss first flew on February 22, 2002. Other smaller amphibious single engine air tanker designs had been tried by other companies since the early 1980s. None of those succeeded. Bob Wiplinger first considered "floating" the Air Tractor AT-802 after a visit to the Air Tractor plant in 1993. Leland Snow showed the 802 to "Wip" and stated "Bob, you should be able to build a set of floats for this." Wip agreed. In 1998, Wipaire completed a contract with the Ontario Ministry of Natural Resources to install a water scooping and tank system in the Wipaire 13000 series floats for the de Havilland Twin Otter. The Fire Boss system evolved from that experience.
TM: Was there a core group from Wipaire which met with Air Tractor in order to design the Fire Boss?
JS: Bob Wiplinger was the major "driver" behind the Fire Boss system design. He worked closely with the Wipaire and Air Tractor engineering teams to take the project from the drafting board to a fully certified product.
TM: How long did it take to complete Certification /STC of the Fire Boss?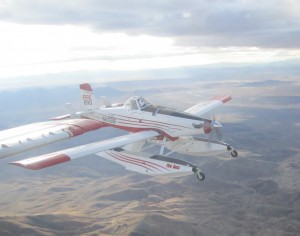 JS: The Fire Boss program went from preliminary design to full U.S. FAA and Canadian certification in just over 2-years.
TM: What is the weight of the Wipaire floats and tanks which make up the Fire Boss?
JS: The exchange weight differential between a land-based 802 and the 802 Fire Boss is approximately 2,000 pounds
TM: How many Fire Boss aircraft are produced in an average year?
JS: Average production has been 6 Fire Boss systems per year
TM: How many Fire Boss aircraft have been produced since the first aircraft?
JS: As of October 31, 2012, 59 Fire Boss systems have been produced
TM: What are the special features of the Fire Boss? Agricultural Spraying and Aerial Firefighting
JS: The Fire Boss design builds on the success of the land-based Air Tractor AT-802 fire-fighting aircraft. The wheeled version of the 802 can be ground loaded from a fire hydrant, fire truck, or other portable loading system and is capable of dropping 820 gallons of retardant, water, foam, or gel. The Fire Boss system consists of a custom set of Wipaire 10000 series amphibious floats that are equipped with two water scooping probes and pipes that enable the Air Tractor AT-802 to skim on a water body at about 75 mph and "scoop" up to 800 gallons in approximately 15 seconds. This "self-filling" aircraft is also equipped with a foam injection system that can carry up to 78 gallons of Class A foam concentrate to enhance the effectiveness of a water drop. Amphibious floats enable the Fire Boss to operate from an airport, lake, reservoir, river, or protected ocean environment. The Fire Boss Supplementary Type Certificate (STC) includes airframe modifications to enhance the performance and flying qualities of the aircraft (e.g. vortex generators, finlets, and a higher horsepower rating)
TM: What is the clear distance needed for the Fire Boss to scoop and load a full tank of water?
JS: Pilots normally plan to utilize approximately 5,000 feet for the approach, on-water scooping, and departure operation of the aircraft. The aircraft is actually on the water between 1,800-2,400 feet depending on wind and surface conditions. Longer scooping distances will be required for high density altitude situations.
TM: Depending upon the distance of a wildfire to a water source how many gallons of water can the Fire Boss scoop in one hour? Could you give an example – say the fire is 10 miles from the water source.
JS: Depending on the distance between the fire and a scoopable water source, the Fire Boss is capable of delivering over 15,000 gallons of water to a fire in one hour. This figure will drop to about 7,000 gallons if the water source is 10 miles from the fire.
TM: What is the fully loaded – with water or gel – weight of a Fire Boss?
JS: The gross operating weight of the Fire Boss is 16,000 pounds … the same as for the land-based AT-802. This 16,000 pound operating weight applies to departures from an airport or scooping operations from a water surface. The landing weight of the Fire Boss on land or water is 11,500 pounds. A landing weight of 12,100 pounds is permitted if the aircraft has to make an emergency return to an airport.
TM: Could you provide information on the total number of Fire Boss AT-802F Firefighting aircraft now deployed in the U.S.? Canada? France? Spain?
JS: Spain: 25 Canada: 13 Italy: 6 Croatia: 5 Macedonia: 3 United States: 3 Montenegro: 2 Australia: 1 Argentina: 1 Total: 59
TM: Could you provide the name and contact information for a Fire Boss pilot to learn about what it is like to fly the Fire Boss?
JS: Jesse Weaver, Chief Pilot, Aero Spray, Inc. (337) 849-4376
TM: What about deploying a 4, 5, 6 Fire Boss to knock down a wildfire when it is small – before it has the time to burn out of control? Is that effective.
JS: Deploying Fire Boss aircraft in pairs, trios, or more is a highly cost effective way to compact fires. An air attack officer can position the multiple aircraft strike force into a "daisy-chain" in which a load of water gets delivered to the fire on an almost continuous basis. With more than 3-hours of fuel endurance, this tactic can deliver more gallons per hour than even heavy land-based tankers and at a fraction of the cost (see attached air attack evaluation for only two aircraft working together)
TM: Any anecdotes you would like to contribute about the operation of the Fire Boss?
JS: In 2010, a fleet of Fire Boss aircraft successfully combated an urban interface fire north of the city of Edmonton, Alberta. Up to 12 Fire Boss aircraft were working this fire at the same time. The Fire Bosses were able to scoop from a tight and curving section of a nearby river instead of having to ferry long distances to a larger water source. The air attack leader set up a constant daisy-chain system that enabled up to 10 aircraft to stay in the circuit fighting the fire while one or two planes were set back to a nearby airport for fuel. The Fire Boss strategy was a great success. The fire never reached the interface area. No structures were lost. The picture of multiple Fire Bosses in action made the front page of the Edmonton paper (see attached photo).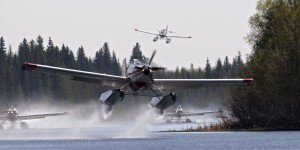 TM: How rough can fresh or sea water be for the Fire Boss before it could be a problem?
JS: Wave heights of 2.5 feet are acceptable. 3 foot waves would be an absolute maximum. The distance between wave crests should be tight (i.e. 2 waves within the length of the floats). Swells should be avoided.
For additional information: Call Jamie Sargent: Direct: 651-209-7191 Cell: 657-253-7172 FAX: 651-294-0050 E-Mail: jsargent@firebossllc.com