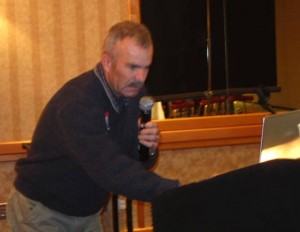 A great success: over 65 attendees, 14 NEW members recruited.
Three Sponsor displays, press (Reno Gazette-Journal) and TV (CH 2) coverage.
Thought-provoking presentations followed by challenging Q&A periods.
As per  tradition, sustenance in abundance was arranged by Jimmy Barnes.
Gabby Newhart presented another incredible performance of herding cats.
Monday (14th), Bordeaux-Claret convention room: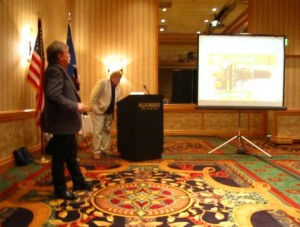 AAF Business Meeting, 0830-1000 (Voting Members only):
O830 Welcome; Walt Darran/Jim Barnes.
2012 AAF 2011-2012 milestones.
AAF website report.
Membership with email addresses will be posted; members can opt-out of this feature by notifying AAF webmaster.
Sponsors.
Social media links; Facebook, YouTube.
Jobs sought/available section on website; tabled.
0845 Financial Report, Gabby Newhart; AAF and Memorial Fund, membership summary.
0900 Discuss/ratify revised bylaws. Accepted as proposed. "Red-lined" bylaws will be submitted by AAF legal advisor Mike Moran to 2013 Board of Directors for final approval.
0915 Nomination/election of 2013 Board of Directors. Results posted under "ABOUT AAF".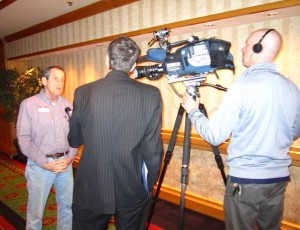 0945 2014 AAF meeting set for 11-12 January, 2014, El Dorado Hotel. Business meeting will commence at 1500 in the hospitality room on Saturday 11 January. Presentations will commence at 1000 on Sunday, 12 January.
1000, presentations:
Luke Thompson C130/MAFFS. Caylym/Guardian, Romania tests.
Dennis Hulbert, Coulson C130H/Q, NVG.
Bob Farinsky, AVA (MAFFS I & II IP).
Tom Kershner, Chris Holm, Dean Talley; BAe146.
1230-1330 lunch.
1330, presentations: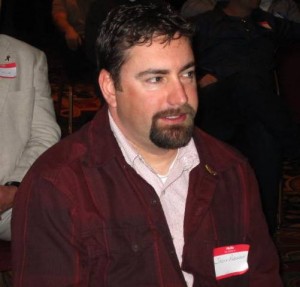 AAF 2013 goals:
1. Strengthen and expand our membership base, including international members, contractors, agencies, OEMs, affiliated suppliers (i.e., fire chemicals, OEMs), military wildland firefighters, and rotor-wing contractors and crews.
2. Encourage publication of postings, wildfire photography, and other material of a professional nature in airtanker.org.
3. Continue to address S.E.E. objectives at the local, State, National, and International level.
Bill Broadwell, AHSAFA. USFS contracts.
Jason Robinson; Scooper operations, Cl215.
Walt Darran; BE200, FireBoss, AT802.
Chuck George; ICL, Phos-Chek.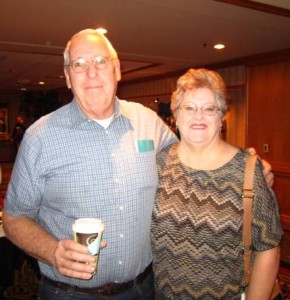 Dave Wardall; accident prevention (SMS), reporting, and investigation.
1700: adjourned to hospitality  room.
Next year, 11-12 January 2014, again at El Dorado Hotel & Casino, Reno. Business meeting will be held Saturday afternoon starting at 1500 in the hospitality room.